Good morning, bloggy friends!
Sidenote: I never used to write center aligned,
it's a recent thing, and it's staying around for a while. Maybe.
How was your weekend? Good? Sweet.
Tell me about them, like in the comments, or in your own blogs. Dealio?
My weekend? It included awesome people and lots of fun. This clearly equals an awesome weekend.
I wore neon orange heels to work on Friday just to ensure I could kick the weekend off in style.
This weekend, as so many others have as of late, started off at the AmPo gym for Panther basketball.
AmPo girls and boys both beat
Minco Stinko
, as I called it growing up. Since it was an AmPo/Minco game,
my wonderful twin
and #BabyTate were at the game
(Lori, is it okay that we've officially hashtagged your kid?)
. Tate fell asleep on me, which of course I didn't mind. He was wearing AmPo green to support Kaden & the Panthers, even though he started the night in a Bulldog outfit.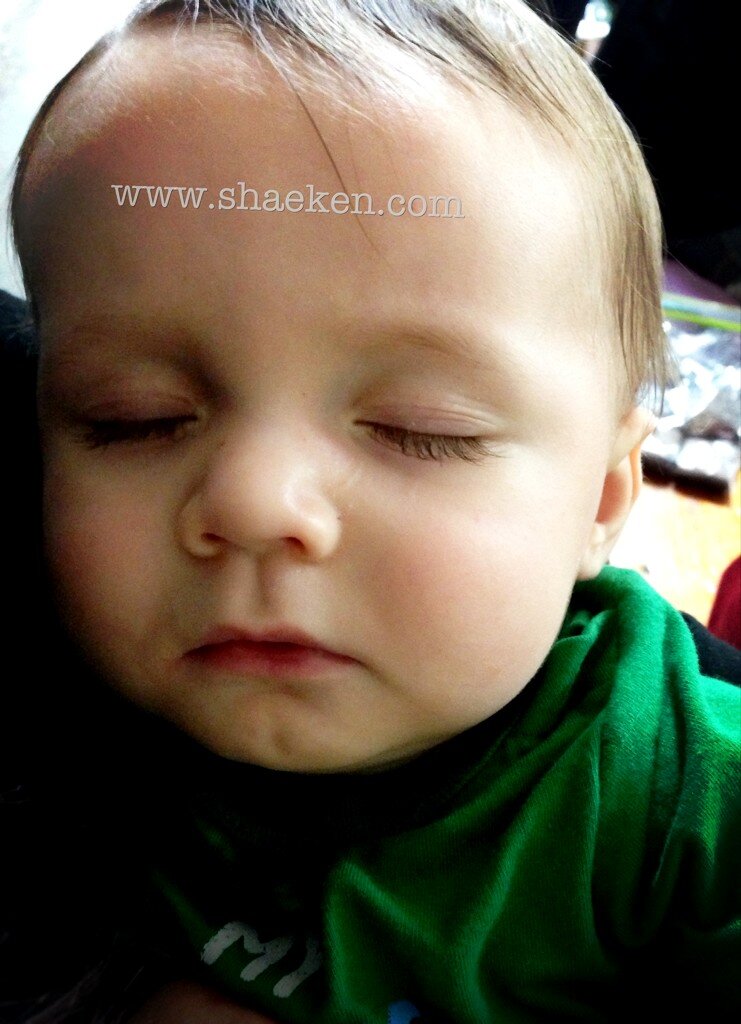 Saturday morning started with more basketball (a weekend theme, btw), in the form of Kale's YMCA team.
After watching them kick some booty, I headed to Yukon to get my camera fixed.
Again.
I haven't expressed my annoyance here, but guys, when a camera goes out of commission two weeks before Christmas, you kind of want to cry. Then, when they keep it for almost two months to fix it and six days after you pick it up it gives you the exact same error message, you get a bit annoyed. Especially when you've been told this screen is practically the equivalent of the blue screen of death. #pcprobs. So, I took it back, and apparently although they'd replaced the motherboard, they didn't fix everything that was wrong, and there is still something wrong with the way the camera communicates with lenses regarding image stabilization. Possibly. We'll see. At least they aren't charging me this time.
Saturday afternoon, Matt and I watched basketball (I told you it was a weekend theme), and thank goodness our Cowboys got another
W
!
T.Ford
& the 'boys are onto something with this whole winning on the road idea. :)
Anyway, after an afternoon of basketball, Matt took me to Cheesecake Factory!! It was delicious. After dinner, we each picked a flavor of cheesecake, so we could try them both. We picked Hershey's and Reece's, which they accidentally swapped out for Snickers, which was delicious too, so really it didn't even matter. This cheesecake was so rich that we ended up with at least half of both pieces left over. The Snickers one is sitting in my refrigerator tempting me as I type.
Sunday after church the family headed to Grandma & Trapaw's house to celebrate the cutest little almost-five-year-old I know - Julie! Miss Sassy Pants might have found her present from me earlier in the week (clearly it was makeup, nail polish, etc...everything her daddy - my uncle - wouldn't want her to have!), but I quickly covered so she still was surprised when she opened it (I think).
Before leaving my grandparents' house, Trapaw was sure to pass out Valentines Day presents! He's never missed a chocolate box delivery :)
I ended the weekend with - what else - basketball! The Women's Basketball version of Bedlam was Sunday, so clearly I watched that and wore plenty of orange, followed by Thunder vs. Suns/the Grammy's. I think we all know what I watched more:
Oh, Nick Collison. #ThunderUp